Sri lanka Guide
Ever since the very early days of travel, Sri Lanka has been known as one of the worlds most beautiful and diverse exotic holiday destinations.
This is reflected in the many nicknames Sri Lanka has acquired over the centuries: Serendib (the origin of the word "serendipity"), Ceylon, Teardrop of India, Resplendent Isle, Island of Dharma, Pearl of the Indian Ocean; just to name a few.
The island's documented history spans three thousand years. Its geographic location and deep harbours made it of great strategic importance from the time of the ancient Silk Road through to 21st century.
Sri Lanka is home to many religions, ethnicities and languages. The Sinhalese people are the majority, although there are many ethnic minorities, including Tamils, Muslim Moors, Burghers, Kaffirs, Malays and the aboriginal Vedda people.
Sri Lanka is a green, fertile tropical island with palm-fringed beaches, misty mountains and significant archaeology. It has a rich Buddhist heritage, and the first known Buddhist writings were composed on the island.
Hiostory aside, you can explore virgin rain forests, marvel at the ancient cities, discover the many national parks or get dazzled by the famous gems.
Or just relax on the 1,600 km of uncrowded, white beaches Sri Lanka is known for, surf some of the best waves in the world and enjoy the unique beach life.
For more information, please see our Destination Guide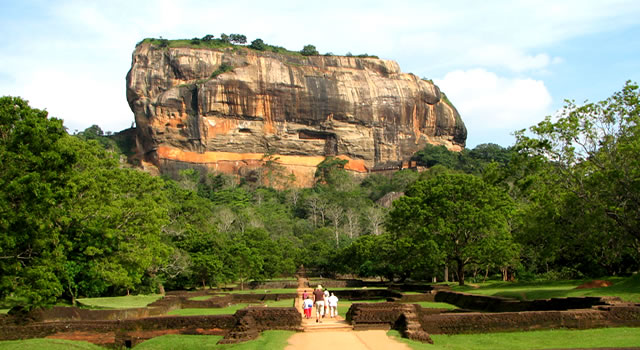 Sigiriya Rock Fortress (UNESCO Heritage Site)
| Fast Facts about Sri Lanka | |
| --- | --- |
| Population | 20,869,000 |
| Area | 65,610 km2 |
| Time zone | Sri Lanka UTC+05:30 |
---
Festivals
Sri Lanka having a history as long as many ancient civilizations, positioning in the crossroad of the East and the West, and being a multicultural society, celebrates a wide variety of festivals, ceremonies and events.
| Event | Month |
| --- | --- |
| Thai Pongal, colorful Hindu festival | January |
| Sinhala and Tamil New Year | April |
| Vesak, commemorating the birth, enlightenment and death of the Buddha | May |
| Esala Perahera in Kandy | July / Aug. |
| Deepavali | October |
Must Visit Sites
Sri Lanka has more to offer than only holidays on white palm-fringed sandy beaches and perfect sunsets.Tea estates, where famous Ceylon Tea is grown, spice gardens, cloud forests and the cultural triangle with its ancient temples and palaces are just some of the many attractions to be found.
---
Sports in Sri Lanka
The range of Sri Lanka activities you can engage in are almost limitless. While the main focus is still on "water-based" activities like surfing, diving, wakeboarding, para-sailing or deep sea fishing, the choice of "land-based" adventures & sports is equally attractive. Cycling, rock climbing, jungle trekking, white water rafting, elephant safaris and hot air balloon rides are just a few of the exciting things Sri Lanka has to offer.
We created special activity packages in which we combine matching accommodation like tea estate bungalows, beach-front cabanas, tree houses and jungle camping with your preferred choice of activities. Ideal for young families, groups and the individual traveler alike.
If you have any questions and/or you would like us to send you a custom-made proposal please contact us...