Discover Sri Lanka's East Coast Tour (6d/7n)
Airport - Elephant Orphanage - Kandy - Peradeniya Botanical Garden - Sigiriya - Polonnaruwa - Trincomalee - Nilaveli - Airport
Here's an interesting blend of nature, heritage, wild life and beach of SRI LANKA offered together. With ample time to sit down and relax, enough interesting places to visit to know about Sri Lanka to make your holiday unforgettable. This tour is for those who want to enjoy and discover the un-spoilt beauty of Sri Lanka.
All our Sri Lanka East Coast Tours can be easily combined with each other, allowing you the flexibility to choose the perfect arrangement.
Additionally the tours can be to added to one of our Holiday or Hotel/Villa Packages.
Transportation is by limousine or mini van, air conditioned and fully insured to guarantee the maximum safety of the traveler. 
Our experienced Chauffeur / Guides are fully licensed and they leave no question unanswered.
If you have any questions and/or need to customization, please contact us or use the "Notes" field in the form below.
Day 1 : Welcome to Sri Lanka! You will arrive at Colombo International Airport and be warmly welcomed by one of our Sri Holidays representatives. From here you will make your way to Kandy, making an exciting stop along the way at Pinnewala Elephant Orphanage. Here you can feed and bathe elephants, or simply sit and marvel at the big, friendly giants relaxing in an idyllic, natural environment of coconut plantations and paddy fields. The orphanage was established in1975 by the Sri Lanka Wildlife department as a conservation breading center for elephants, starting with just a heard of five baby Elephants. These days the heard numbers almost a hundred elephants and Pinnewala is now one of the largest breeding centers in the world. In the afternoon you will arrive in the picturesque city of Kandy, a place firmly on the tourist map for anyone visiting Sri Lanka. Nestled between scenic, forest-covered mountains, this hill-country capital offers an eclectic blend of history, culture, shops, markets, and religious sites. For visitors who come to Kandy in August you will also have a chance to take part in the Kandy Perahera, Sri Lanka's most celebrated festival. Kandy is also a great place to buy local handicrafts, artwork and jewelry, and visiting Kandy's bustling markets is an experience in itself. In the evening you will have dinner, and then relax and put your feet up whilst watching a cultural performance featuring the traditional dance and drumming that Kandy is renowned for.
You will spend the night at a hotel in Kandy.
Day 2 : After breakfast, you will visit Kandy's beautiful British-founded, former royal botanical gardens, where you can sometimes spot a wedding or two taking place whilst taking a romantic walk around Sri Lanka's most beautiful gardens. After you have finished exploring the gardens, you will then be taken to a tea plantation and tea factory. No visit to the hill country is complete without a visit to a tea estate, where you can view the vibrant green fields of tea which for so many people epitomize the image of Sri Lanka. Surrounded by the breathtaking, idyllic landscape, you will also get a chance to taste and purchase some of the world's finest tea. In the afternoon you will visit Hanuman temple and Ramboda water fall. Return to Kandy and visit rest of the sight seen such as upper lake drive, Kandy lake and temple of the tooth relic .
Dinner and overnight stay at a hotel in Kandy.
---
Day 3 : After breakfast leave for Sigiriya. En route stop in Matale. Here you will also visit a traditional Sri Lankan spice garden where you can learn about the basis of Ayurveda natural medicine, a custom integral to Sri Lankan culture. You will also visit a Batik factory, where you can see one of Sri Lanka's traditional art-forms in practice. Then you will be taken to visit the UNESCO world heritage site Sigiriya, (sometimes called Lion's Rock) is the ruins of an ancient palace in a 200m high rock fortress, overlooking the beautiful plains of North-Central Sri Lanka. Built for an exiled Indian prince, the breathtaking ruins are one of Sri Lanka's main tourist attractions and date back to AD 477. Despite its age, Sigiriya still retains much of its former beauty and features some of the finest examples of ancient art in the form of wall paintings, as well as a network of attractive gardens and reservoirs, and Sigiriya's namesake – a gigantic pair of lion's paws cut into the rock. With its fascinating history and unerring beauty, Sigiriya is often referred to as the 8th wonder of the world. When you are finished in Sigirya you will be taken a jeep safari in Minneriya national park. Located between Habarana and POLONNARUWA, the 8890 hectares of MINNERIYA NATIONAL PARK is an ideal eco tourism location in Sri Lanka . The park consists of mixed evergreen forest and scrub areas and is home to Sri Lanka 's favourites such as sambar deer, leopards and elephants. However the central feature of the park is the ancient Minneriya Tank (built in 3rdcentury AD by King Mahasena). During the dry season (June to September), this tank is an incredible place to observe the elephants who come to bathe and graze on the grasses as well as the huge flocks of birds (cormorants and painted storks to name but a few) that come to fish in the shallow waters.
Dinner and overnight stay in Sigiriya.
Day 4 : After breakfast leave for Trincomale. ( En route you will see plenty of wild elephants ) Stop in Kanniya to see seven hot springs. A high wall bounds the rectangular enclosure which includes all seven springs. Each is in turn enclosed by a dwarf wall to form a well. The water is warm, the temperature of each spring being slightly different. The use of the springs for bathing is controlled by the neighboring Mari Amman Kovil, who holds the lease of the wells. Check into hotel and in the afternoon sight seen, such as The Konesvaram Hindu temple attracted pilgrims from all parts of India. The Konesvaram shrine itself was demolished in 1622 by the and who fortified the heights with the materials derived from its destructionsome of the artifacts from the demolished temple were kept in the Lisbon Museum including the stone inscription by Kulakottan . It has an emblem including two fish and is engraved with a prophesy stating that, after the 16th century, westerners with different eye colours will rule the country for 500 years and, at the end of it, rule will revert back to Vadugus. Also visit Dutch fort. The entrance to the roadway leading to Koneswaram is actually the entrance to what used to be Fort Fredrick  The fort was built in 1623 by the Portuguese and captured in 1639 by the Dutch. It then went through a phase of dismantling and reconstruction and was attacked and captured by the French in 1672.Dinner and overnight stay at a hotel in Trincomale.
Day 5 : After breakfast undertake a boat excursion to Pigeon Island ( for snorkeling , sea bath ) : is one of the two marine national parks of Sri Lanka . The national park is situated 1 km off the coast of Nilaveli, a coastal town in Eastern Province. The island's name derives from the Rock Pigeon which has colonized it. The national park contains some of the best remaining coral reefs of Sri Lanka. Pigeon Island was designated as a sanctuary in 1963. In 2003 it was redesignated as a national park. This national park is the 17th in Sri Lanka. Return to hotel in the afternoon. Relax on the beach or explore in and around Nilaweli.
Dinner and overnight stay at a hotel in Trincomale.
Day 6 : After breakfast leave for Colombo. On the way stop in Melsiripura to see a dairy. Lunch in Kurunegala overlooking the paddy fields and nature. In the afternoon visit Colombo. Colombo is Sri Lanka's commercial capital and is a fast-paced, fascinating city with a cosmopolitan blend of East and West, old, and new. Here you can take your pick from visiting Buddhist temples, Hindu temples, churches, old parliament buildings, and art galleries.
You will stay overnight and dinner at a hotel in Colombo.
Day 7 : After breakfast leave for the airport or your next destination in Sri lanka.
For our Sri Lanka Hotel or Villa Packages please click here
---
Rates
2 PAX
4 PAX
6 PAX
*the rate is per person sharing a double room. If you need an extra bed or a baby cot please mention it in the form below .
Sri Lanka East Coast Tour (7D/6N)


05. Jan to 30. June & 01. Sep to 31. Oct.2015

$465*
$400*
$375*
2 PAX
4 PAX
6 PAX
*the rate is per person sharing a double room. If you need an extra bed or a baby cot please mention it in the form below .
Sri Lanka East Coast Tour (7D/6N)


01. July to 31. August 2015

$520*
$450*
$420*
Apart from some local festivals and events, the high season is generally from July to September and January to March; the Peak Season over the Christmas / New Year period. This varies slightly between the different locations and venues. We always make sure that you will get the best rates available. See also our Best Rate Policy
We are no automated booking engine! All enquiries and reservations are handled by a real person; a dedicated Sri Lanka specialist who will offer unbiased advice, guide you through the reservation process and assists you during your holiday (whenever needed) as well. We are physically based in Sri Lanka and our 24/7 customer hotline is always available to you.
---
Sightseeing
Accommodation in double room on b&b basis
Private transport in A/C luxury vehicle
English-speaking Chauffeur / Guide
Driver Accommodation & Meals
24/7 Customer Hotline
Not included is:
Medical Insurance
Meals other than specified
Entrance fees
Items of personal nature
Tipping and porterage
Anything not specified in the package inclusions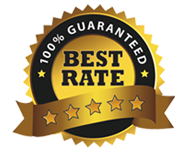 Book with confidence. We will not only make sure that you get the best value for your tour but we also reconfirm every part of this reservation first, before sending you your final confirmation.