Sri Lanka Cycling Tour 7D / 6N
Day 1 : After your arrival at the airport or your hotel pick-up (optional), we will transfer you to Negombo Beach on Sri Lanka's West Coast (15 km from the airport).
Negombo town is a historically interesting place strongly influenced by the Catholic Church. The narrow strip of land between the lagoon & the sea and the many canals make for a good cycling and exploring at the same time.
The Dutch captured the town from the Portuguese in 1640, lost it again in the same year, and then captured it again in 1644. The British then took it from them in 1796 without a struggle. Negombo was one of the most important sources of cinnamon during the Dutch era, and there are still reminders of the European days. On arrival in the hotel you can check the bikes, relax if you need to acclimatize or go on a ride along the Ettukala Sand Beach.  
Dinner & overnight at the Golden Star Beach Hotel* in Negombo
Day 2 : Total cycling distance 25km. (Approx. 3 Hours - Soft)
This morning we go on a short cycle ride to familiarize you with the climate, humidity etc. On this tour, mainly in the shade of the  coconut palms, you'll pass the local fish market (one of the biggest in Sri Lanka)  and Negombo's fishing harbour. Here you can see a very special Sri Lankan fishing style. The fishermen of Negombo rely on traditional knowledge of the seasons for their livelihood, using outrigger canoes carved out of tree trunks and nylon nets to bring in modest catches from September through till April. For generations the lagoon has provided the fishermen with a plentiful supply of crabs, shrimp and many of the native species of fish.
Dinner & overnight at the Golden Star Beach Hotel*
Day 3 : Total cycling distance approximately 35km. (Approx. 5 Hours - Soft & Moderate)
We cycle to the village of Kurunegala this morning, from where you will have the option to transfer to Sigiriya by vehicle or continue to Sigiriya on bike. On the way we will be visiting the Dambulla Cave Temple which was built by King Walagambahu in the 1st century B.C. and it is a UNESCO World Heritage Site. It is the most impressive of Sri Lanka's cave temples. The complex of 5 caves with over 2000 square meters of painted walls and ceilings is the largest area of paintings found in the world. The history of the the caves, containing over 150 images of Buddha, goes back to 1st century BC when King Valagambahu took refuge here. The second cave, the most elaborate and most spectacular of the five, is the largest which is 170ft long, 75ft broad and 21ft high. There is a large reclining Buddha statue and statues of two kings namely, Valagambahu who took first took refuge there and did most of the construction and Nissankamalla who later continued his work. In the center of this cave is a large container to collect the water that drips from the rock ceiling even during the dry season. This place is worth visiting not only for the cave temple, but also for the beautiful view over the countryside we get from near the caves situated at around 150 meters above the road.
Dinner & overnight at the Sigiriya Village Hotel*
Day 4 : After breakfast you have the option to climb up to the Sigiriya Rock Fortress. The ancient city of Sigiriya was designated a cultural World Heritage Site in 1982. It is also proposed that the site should be named the eighth wonder of the world, indicating it is in the same league as other international wonders such as the Grand Canyon and Ancient Pyramids. Translated as 'Lion Rock' into English, the name of the monument indicates the entrance through which visitors begin their final ascent to the top – through the open jaws and throat ('giriya') of a lion ('sinha'). Unfortunately, the only remains of this lion figure are the gigantic paws, sculpted into the side of the rock. The topography of the area is flat except for the massive rock outcrop of the fortress itself. This amazing rock rises incredibly over 600ft up from the scrub jungle and what is more amazing is that its flat top has an area of over 3-1/2 acres. The amazement is not over; not wanting to be second to the Nature's creation, the King has used this space in its entirety to create his palace and fortress complexes including a swimming pool on the summit of this rock.
Total cycling distance approximately 40km. (Approx. 4 hours - Soft) - You have the option of extend cycling sections.
From Sigiriya we will continue by bike to Polonnaruwa & visit the ancient ruins.
Polonnaruwa is one of Sri Lanka 's ancient capital cities (and part of the famous 'Cultural Triangle'). Although King Vijayabahu 1 was the first to claim the city as his capital, it was King Parakramabahu who made it what it is today, with its massive buildings, ornate parks and the 'pièce de resistance' - a 2500 hectare tank called 'Parakrama Samudra' (' Sea of Parakrama ').
The city itself is divided into new and old town with the impressively preserved ruins split into five main areas, including 'The Quadrangle' (a.k.a. 'Terrace of the Tooth Relic'), the Northern City group and the Rest House group (with the royal palace ruins of 'Nissanka Malla').
Due to its reasonably compact layout, the ruins can be easily explored on bicycle along the surrounding area's flat well maintained roads.
Dinner & overnight at the Sigiriya Village Hotel*
---
Day 5 : Total cycling distance approximately 55km. (Approx. 5 hours - Moderate). You have the option of extending cycling sections.
Using a combination of pedal power and vehicle we travel to Kandy, passing villages, rivers and mountain summits en route.
Kandy was the last stronghold of the Buddhist political power against colonial powers. It is also the home of the Temple of the Tooth relic. It's Sri Lanka's second largest city and home to a Sinhalese cultural tradition of which Sri Lankans are justifiably proud.
DALADA MALIGAWA - The Temple of the Tooth or Dalada Malgawa dates from the 16 th century, though most of the present buildings were built in the 19 th century. Entering the shrine over a moonstone step, you pass a stone depicting the Indian goddess Lakshmi and a wall with frescoes illustrating the Buddhist conception of hell. The upper stories house the relic of the tooth, caged behind the gilded iron bars. Behind the tooth relic sanctuary is a hall with a number of golden Buddha statues and modern paintings, showing Buddha's life and the arrival of Buddhism in the land. We end our tour just before the evening drumming begins, which precedes the ceremonious opening of the window for the public viewing of the casket with the tooth.
Experience a Cultural performance
You can see the compelling traditional Kandyan dancing at one of the city's cultural performance centers. The team of drummers and dancers will show you the traditional Kandyan dancing where it will be one of your lifelong memories of the tour!
Dinner and overnight at the Suisse Hotel
Day 6 : Total cycling distance 26km. (3 ½ Hours- Moderate to Hard Cycling Route)
After breakfast we transfer to the top of the Hantane Hills, with its magnificent view of Kandy and the daunting Knuckles Mountains. The ride follows a trail leading to the estates, where scores of brightly dressed tea pickers pluck the top leaves of the green bush.
An optional 9km-road ascent takes us to the Pitawella rock pools and waterfall, the perfect place for a natural shower and picnic lunch.
Riding after lunch we continue along the tea trails, where once again the group can be divided as there are both off-road and road options. Both routes end at the estate's tea factory where we can stop and sample the refreshing local brew and tour the factory.
Dinner and overnight at the Suisse Hotel*
Day 7 : After breakfast we transfer you by car either back to the airport or any other destination in Sri Lanka (optional)

For our Sri Lanka Hotel or Villa Packages please click here
* please note that the mentioned hotels are subject to availability.
---
Rates
2 Pax
4 Pax
*the rate is per person sharing a double room. If you need an extra bed or a baby cot please mention it in the form below

Sri Lanka Cycling Tour
$585*
$485*
Apart from some local festivals and events, the high season is generally from July to September and January to March; the Peak Season over the Christmas / New Year period. This varies slightly between the different locations and venues. We always make sure that you will get the best rates available. See also our Best Rate Policy
We are no automated booking engine! All enquiries and reservations are handled by a real person; a dedicated Sri Lanka specialist who will offer unbiased advice, guide you through the reservation process and assists you during your holiday (whenever needed) as well. We are physically based in Sri Lanka and our 24/7 customer hotline is always available to you.
---
Sightseeing
Accommodation in double room on HB basis
Private transport in A/C luxury vehicle
Mountain Bikes
Guiding
24/7 Customer Hotline
Not included is:
Medical Insurance
Meals other than specified
Entrance fees
Items of personal nature
Tipping and porterage
Anything not specified in the package inclusions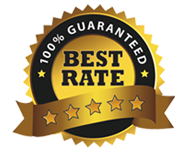 Book with confidence. We will not only make sure that you get the best value for your tour but we also reconfirm every part of this reservation first, before sending you your final confirmation.